Western Canada Pictorial Index:

Tips for Searching the Collection
This Index consists of a search interface which provides both Basic and Advanced search screens. Researchers can search in the following fields: Image Number, Title/description keyword, Collection name. These search strategies are described below:
Image number: Each image in the Index has been assigned a unique identification number. The number consists of five digits. This is a quick way to search when a researcher is requesting an item found elsewhere.
Keyword: The keyword searches, the most powerful search strategy in the Index, gather all descriptions that contain the keyword(s) in the title/description and the subject fields. Below is a sample keyword search for 'horse.' In the first entry the term 'horse' appears in both the title/description and subject fields, in the middle two entries the term appears only in the title field, while in the last entry the search term appears only in the subject field.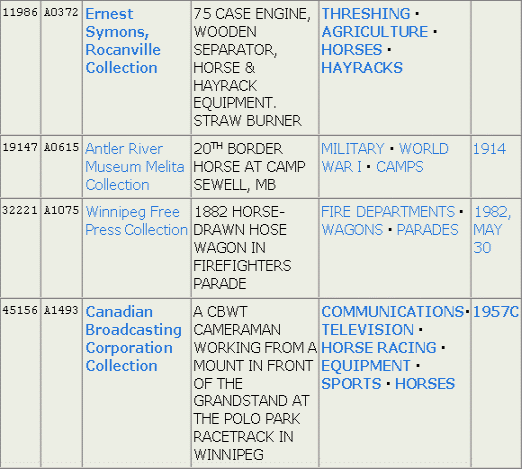 Both the Title/description field and the Subject field can be searched independent of the other, but only the Subject field contains hyperlinked terms which can be searched directly from the descriptions. In the above example, one might click on the terms 'horses,' 'Fire Departments,' 'Military,' or others to retrieve all descriptions containing those subject headings. Further information concerning search strategies is provided on the search screens themselves.
Collection: The Western Canada Pictorial Index consists of images from a number of private and public collections in Manitoba and other parts of Canada. The Index database can be searched by Collection to retrieve all descriptions for a particular collection (e.g. Manitoba Archives).
Date: This is the date on which the image was originally created, or appeared in a publication (for example, as a photograph in a newspaper). The date field can be searched directly from the description field to retrieve all images sharing the same date field information. The construction of date information in the Index retrieves results in broad and narrow ways. In the example above, note that there are three formats for date information:
a year, '1914'
a precise day, '1982, May 14'
an approximate date, '1957c' (c being an abbreviation for the Latin circa, meaning "around").
If you conduct a search on either '1914' or '1957c' you will retrieve all images having that year-element as part of their date information, regardless of the format of their own dates. However, a search on '1982, May 14' will retrieve only results for that exact date.